19.06.2022 - **AREA SHOWJUMPING**
Yesterday Tivyside Riding Club enjoyed a very successful day at Gower RC who were hosting the Area 21 SJ Qualifier for the National Championships in Lincoln later this year.
The competition was held on grass - a bit of a novelty these days - so the ups & downs and humps & lumps of a grass arena played their part.
The day started early with the Style Jumping where in the 75cm class junior member Ruth Maczka and the lovely Coco Alley had a 2nd place, followed by Petra James and Blodyn y Pasg who were also 2nd in the senior section. In the 85cm Style Amy Sibley and the irrepressible Lyndell Cherry Blossom won the Junior class.
Then on to the Showjumping in the 70cm class Ruth and Coco jumped 2 great rounds to go one better this time and win the Junior 70 SJ. Petra and Blodwen jumped a double clear meaning they had to jump off for individual places in the seniors. Another clear and fast securing them 1st place.
The 80cm and 80 Open class TRC were represented by Petra and Blodwen who had an eventual 4th place just knocking down the 1st jump in the second round and Louise LeGeyt and Quarter of (Doriz) who were in the Open section where they jumped a lovely double clear and made it into the jump off and were just pipped into 2nd place by less than a second.
In the 90 class junior representative Amy and Blossom jumped 2 accomplished rounds for a win in that section. Tivyside had a team in the seniors comprising of Louise and Doriz, Petra and The Protagonist and Hannah Mcloughlin riding Corvisto. All horses and riders put in great jumping efforts over the 2 rounds for a Team win with Hannah 1st individual, Petra 2nd and Louise 3rd. A Tivyside white wash!
Last class of the day was the 100cm where Hannah and Corvisto jumped 2 super rounds for yet another win for them and of course TIVYSIDE RIDING CLUB!
Many thanks go to Gower RC for hosting the competition and to our TRC helpers of Rob Humfrey, Mariette Sibley and Tracy Maczka for sterling work manning the entrance to the ring. Thank you very much from all our competing competitors

Happy days!
02.05.2022 - Please see the newly updated list of Area 21 Training Dates and Camp found on our Area 21 Training & Camp Page - this is available for all Tivyside and Area 21 Riding Club Members!
27.04.2022 - **Calling all Showjumping riders**
Area 21 SJ Qualifier ar Gower RC Sunday 19th June.
Please read the schedule and the RULES and if you'd like to take part, please contact Petra James with which class you'd like to do and include your horses passport name, either on 07977 210660 or by PM on Facebook by MONDAY 22nd MAY.
26.04.2022 - Last call for entries to Area 21 Summer Dressage at Carmarthen Showground. Please contact Muriel asap on 07940 488301 to enter!
26.04.2022 - *** BADMINTON BUS***
There are still seats and tickets available for the TRC bus going to Badminton Horse Trials on WEDNESDAY 4th MAY cost £50!
Book your place with Muriel Gill on 07940 488301
Tell your friends too!
05.04.2022 - Last weekend at Little Mill Equestrian Center Tivyside Riding Club was represented at both the Area Combined Training Qualifier and the postponed Intermediate Winter Showjumping Qualifier.
Jim Fox riding Echo was our sole representative in the CT competition which was run over 2 days. The dressage was on Saturday with a return trip required for the Showjumping held on Sunday. Jim and Echo were competing for the first time at Area level and finished very pleased with a satisfactory result for them both.
Sunday afternoon also played host to the Intermediate SJ competitions of 90, 100 and 110.
TRC had a team in both the 90 and the 100 class, unfortunately it was a team of 3 due to the fourth member having to withdraw earlier in the week but that was no barrier to the intrepid trio as they qualified in both the 90 and the 100 classes. They now go on to the Intermediate Winter Championships at Bury Farm later on this month.
Our riders were Lucy Allison with Hazevern State Occasion - 2nd individually in both classes, Jodie Humphreys riding L'escala Van't Goedlevens - who won the 90 and was individually 3rd in the 100 and Hannah Mcloughlin aboard Corvisto - 4th individually in both classes.
VERY WELL DONE LADIES

Thank you to the hosts at Little Mill and to Towy Valley Riding Club for organising a great couple of days competition.

02.04.2022 - Area 21 Dressage Saturday 21st May at Carmarthen Showground -
Please send names to Sarah or Muriel with which test you can ride. ie Prelim or Novice, (Schedule not out yet though). Preliminary entries will be submitted at the end of April. Thank you.
02.04.2022 - Badminton Bus -
Wednesday 4th May to Badminton. The coach is booked and tickets purchased. There are a few places left so if anyone is interested please let Sarah or Muriel know before the seats are offered to other clubs.
16.03.2022 - Last weekend (12th & 13th March) TRC members enjoyed two days of instruction at Bailey Farm at our Spring Training Weekend. Riders had lessons in flatwork, with Petra James and Showjumping with Lucy Roberts. It's always good to have another pair of eyes on our riding with lots of positive comments and exercises to go away with and practice.
Many thanks to Muriel Gill for organising and providing much needed coffee through the day.
Well done to the riders some of which pushed through their comfort zones to achieve greatness! Da iawn pawb

08.03.2022 - Looking forward - Spring is just around the corner ... although you wouldn't believe it today but with that in mind TRC have organised, at PENSKYBER EQUESTRIAN, near Letterston, an Arena Eventing rally on THURSDAY 31st March (afternoon/evening) and then on SUNDAY 24th April (morning) TRC have organised the hire of COXLAKE CROSS COUNTRY for group instruction at the new venture set up near Narberth. (If the weather will play ball!)
To gauge interest in these events, but bear in mind numbers MAY be restricted, please contact Petra James on 07977 210660 or via PM on Facebook.
Thank you, Petra.
04.01.2022 - Badminton Horse Trails have announced that they will run as normal this year since the previous years have been cancelled due to Covid19. We have been offered the opportunity to arrange a bus/minibus to attend Badminton Horse Trials as a Club Day Trip. Please contact Sarah or Muriel to show your interest in attending a Badminton Horse Trials Day Trip Coach. Thank you.
Congratulations to all members who have taken place in the points scheme of 2021! Winners were announced in the most recent AGm meeting. Below are all winners and their trophies. Well done to all who took part, and thank you to all who came to the AGM meeting.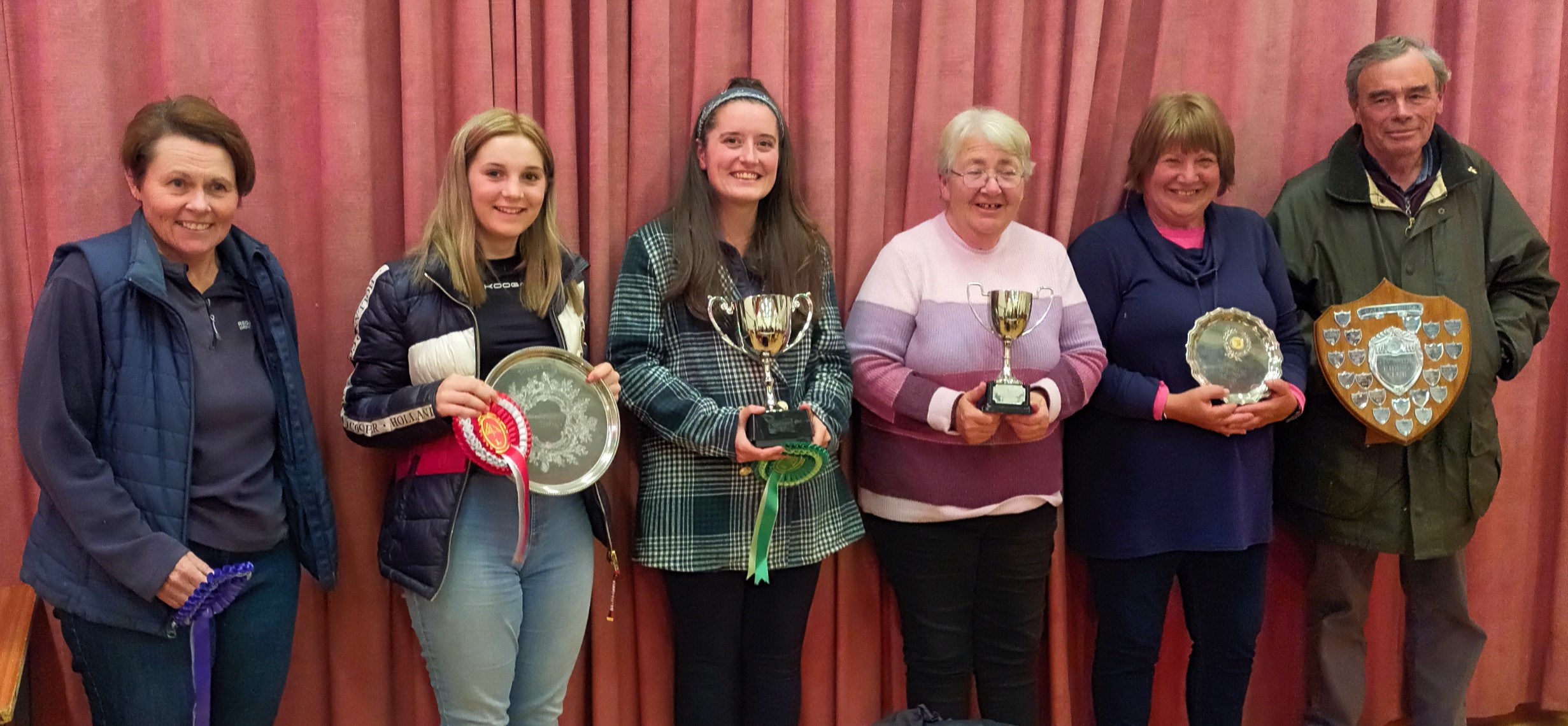 23.09.21
Check your times for the show on Sunday - see the Tivyside Competitions Page for dressage times to plan your day with plenty of notice! All help greatly appreciated with or without your horsey friends!
08.09.2021
Members only show schedule added to our Tivyside Competitions Page - Something for everyone including Jumping, Dressage, Combined training and Showing. All entries to Muriel, see schedule for more info!
See also - Area Competitions are back up and running! See Area Competitions & Training page for what's on and when!
09.08.2021
Simon Longbottom has offered once again to organise another drill ride and tent pegging if enough members are interested. This would need to be outside and there would be 12 horses and riders. Before arranging the date and venue, we would like people who are interested to let us know if they would like to do this as it is number dependent.

Please let Sarah know at sarahluxton.21@gmail.com
**A THANK YOU FROM PETRA!**
A lovely afternoon was spent at Bailey Farm today (8.8.21) with members, old and new, of Tivyside Riding Club, enjoying the competition - and facilities - at our Members Only Showjumping Show.
Running classes from Cross Poles to 80cm we saw many combinations improve in both style and confidence,
with rosettes being shared amongst the competitors.
Full results are available
here

Many thanks to Muriel & Petra and club members both riders and non riders for their help during the day, it is much appreciated.
**Please note the next Members Only competition will be a Dressage Show at Bailey Farm on the 22nd August.**
Classes include Intro, Prelim and Novice tests. Full schedule found
here - entries again to Muriel 07940 488301
Thank you again for the support and WELL DONE ALL!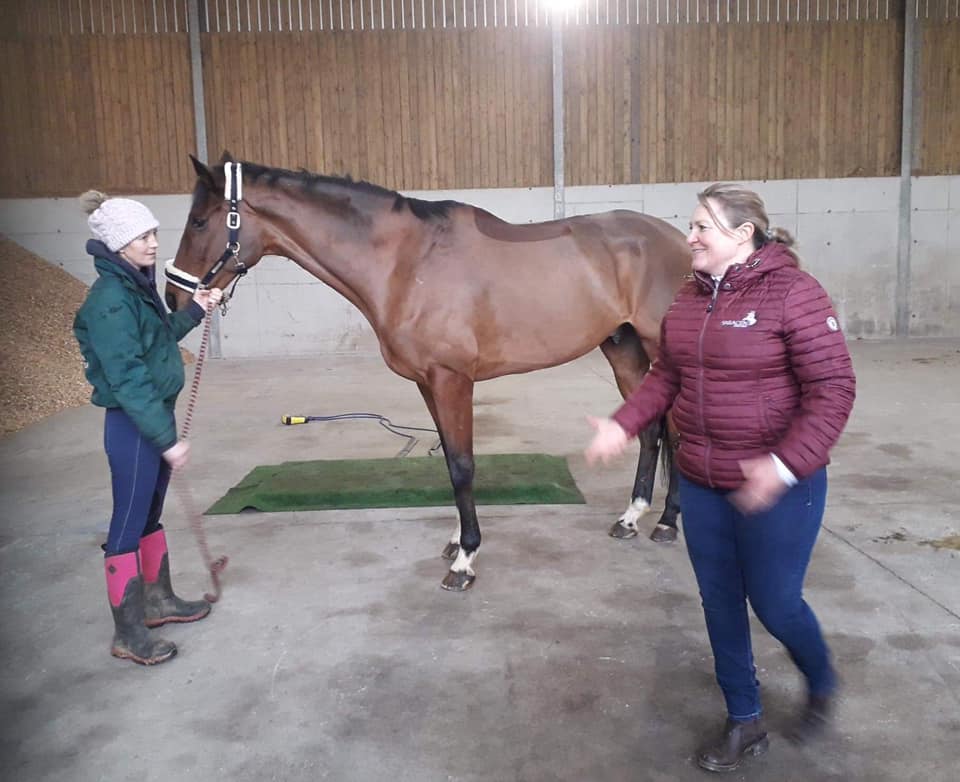 25 January 2020 Very interesting morning for the feed talk with Lucy from Saracens horse feeds , with comparisons of different breeds and ages , many thanks to Jill for Kinchie the veteran horse 24 , Rianne with her two tbs and Dee with her 7 year old Connemara , megs thought the whole thing was wonderful talking about her favourite subject and I was very pleased with her weigh in and that her condition score is spot on , big thank you to all who supported and to Muriel and Jane for some delicious cawl and even more totally yummy cake ( cream eggs

) also thanks to Astrid for taking couple of photos.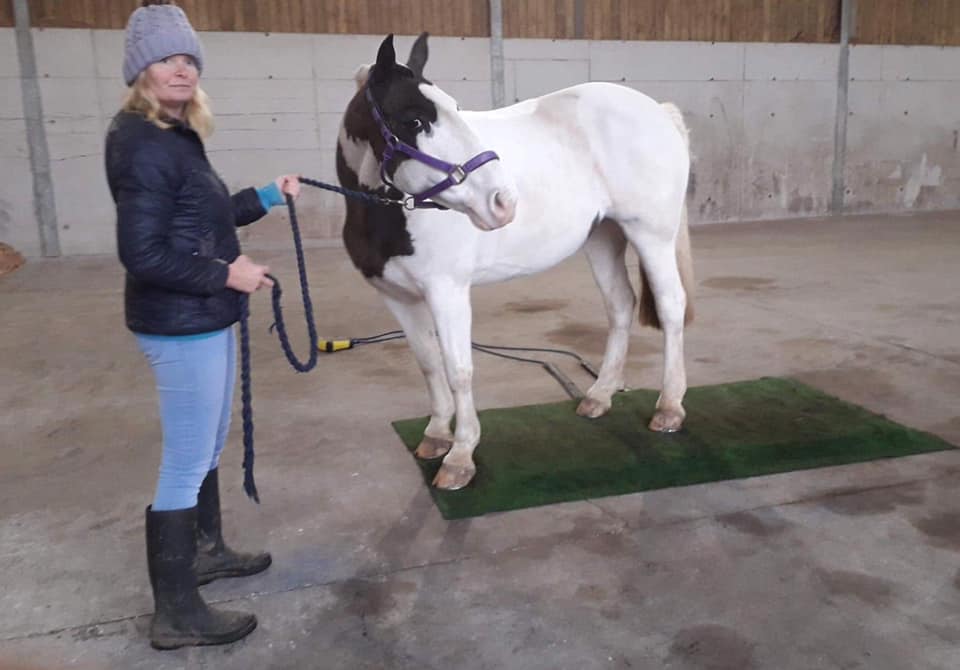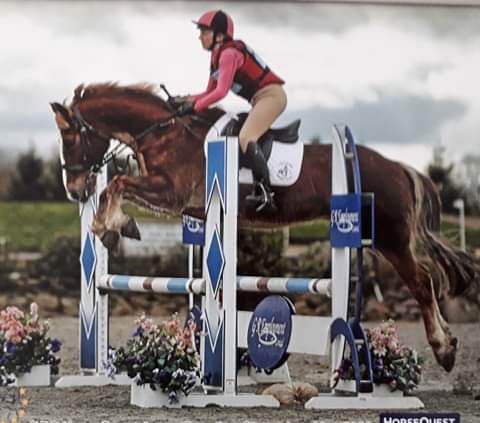 March 2020 - Joanna Collins, Arena Eventing Championships, Aston. "Fab time with my team mates Petra and Debbie".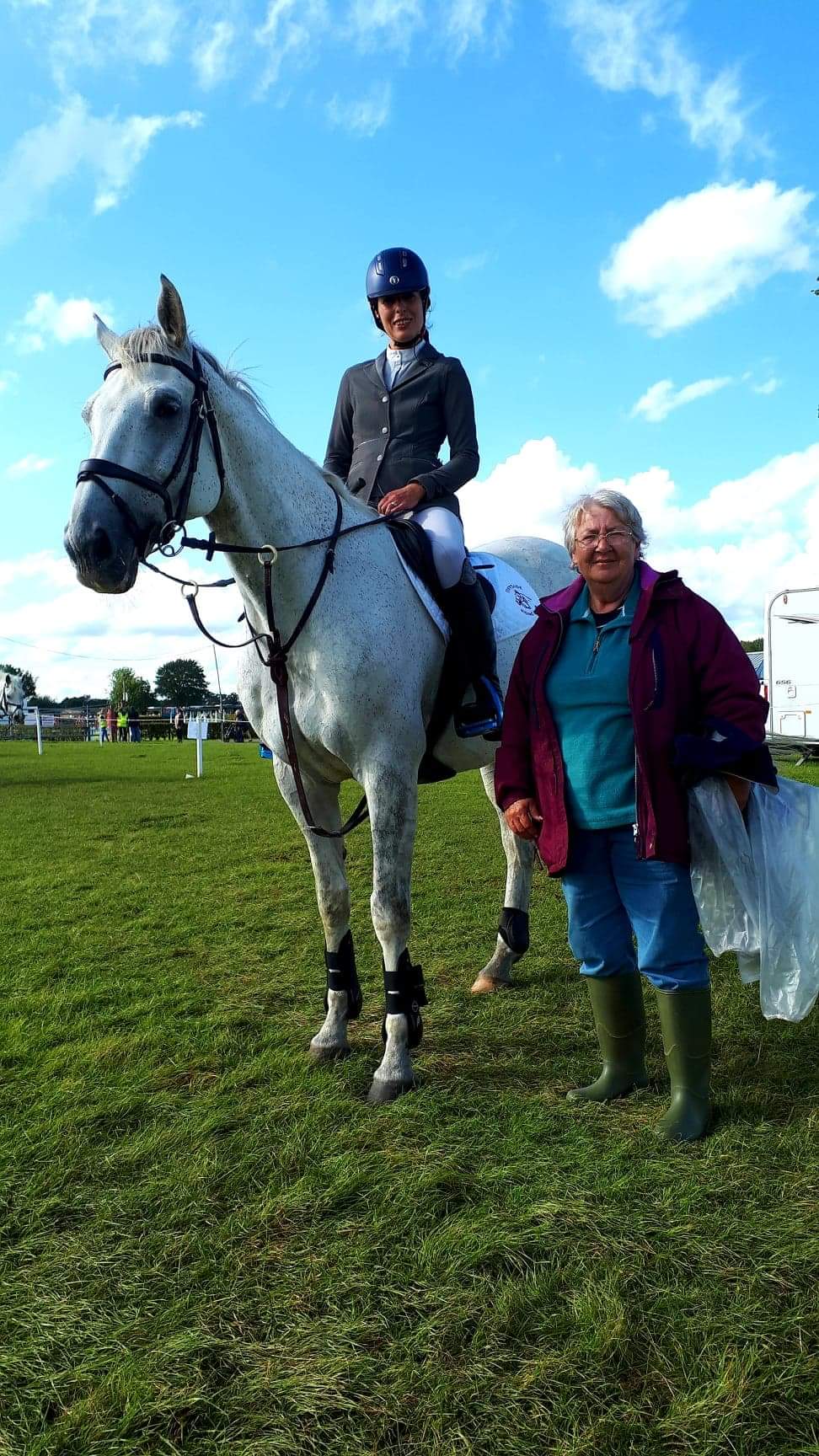 2019 Lincoln Championships. Hannah Mcloughlin and the mighty Corvisto! Hannah - "Muriel was such a huge support".