Huge Success for Tivyside at the 2022 Summer Showjumping Area Competition:

**AREA SHOWJUMPING**
Yesterday Tivyside Riding Club enjoyed a very successful day at Gower RC who were hosting the Area 21 SJ Qualifier for the National Championships in Lincoln later this year.
The competition was held on grass - a bit of a novelty these days - so the ups & downs and humps & lumps of a grass arena played their part.
The day started early with the Style Jumping where in the 75cm class junior member Ruth Maczka and the lovely Coco Alley had a 2nd place, followed by Petra James and Blodyn y Pasg who were also 2nd in the senior section. In the 85cm Style Amy Sibley and the irrepressible Lyndell Cherry Blossom won the Junior class.
Then on to the Showjumping in the 70cm class Ruth and Coco jumped 2 great rounds to go one better this time and win the Junior 70 SJ. Petra and Blodwen jumped a double clear meaning they had to jump off for individual places in the seniors. Another clear and fast securing them 1st place.
The 80cm and 80 Open class TRC were represented by Petra and Blodwen who had an eventual 4th place just knocking down the 1st jump in the second round and Louise LeGeyt and Quarter of (Doriz) who were in the Open section where they jumped a lovely double clear and made it into the jump off and were just pipped into 2nd place by less than a second.
In the 90 class junior representative Amy and Blossom jumped 2 accomplished rounds for a win in that section. Tivyside had a team in the seniors comprising of Louise and Doriz, Petra and The Protagonist and Hannah Mcloughlin riding Corvisto. All horses and riders put in great jumping efforts over the 2 rounds for a Team win with Hannah 1st individual, Petra 2nd and Louise 3rd. A Tivyside white wash!
Last class of the day was the 100cm where Hannah and Corvisto jumped 2 super rounds for yet another win for them and of course TIVYSIDE RIDING CLUB!
Many thanks go to Gower RC for hosting the competition and to our TRC helpers of Rob Humfrey, Mariette Sibley and Tracy Maczka for sterling work manning the entrance to the ring. Thank you very much from all our competing competitors!
February Members only SJ Show Results:
Class 1 X-Poles:
1st Petra James Whistler
2nd Jim Fox Echo
3rd Sarah Morgan Johnny
4th Alice Martin Fern
Class 2 55cms:
1st Petra James Twinkle
2nd Jim Fox Echo
3rd Jason James Poptart
4th Georgia James Cabot
5th Alice Martin Fern
6th Eleri Morgans Millie
Class 3 60cms:
1st Belinda Price Quincy
2nd Jim Fox Echo
3rd Eleri Morgans Lucy
4th Rachel Bailey Melody
5th Amy Sibley Hobbit
6th Leanne Best Dinks
Class 4 70cms:
1st Hannah Mc Loughlan Corvisto
2nd Leanne Best Dinks
3rd Ruth Maczka Coco
4th Belinda Price Quincy
5th Petra James Blodwen
6th Georgia James Cabot
Class 5 80cms:
1st Hannah Mc Loughlan Corvisto
2nd Amy Sibley Blossom
3rd Petra James Blodwen
4th Leanne Best Dinks
5th Ruth Maczka Coco
Class 6 80cms Plus:
1st Amy Sibley Blossom
2nd Ruth Maczka Coco
January 2022 Members Only Dressage Results: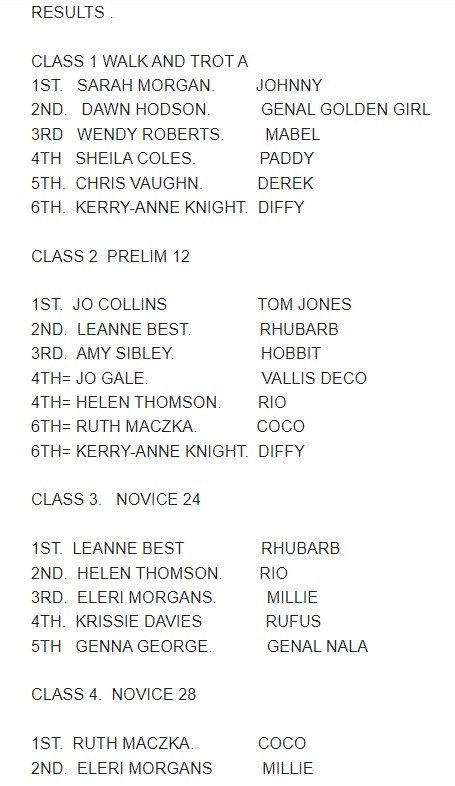 Christmas Show 2021 Results :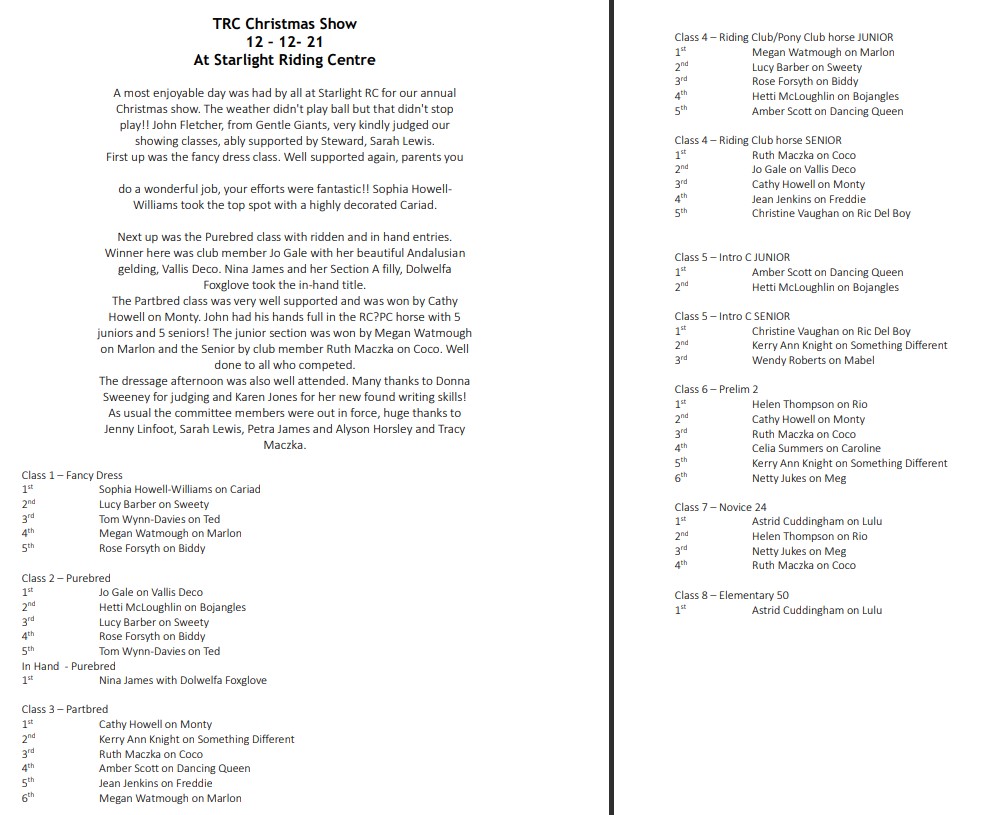 26.09.21 - Members only Show Results - Bailey Farm
All Photos available here :
https://www.sianbroderick.photography/view-your-pictures/102783
A big thank you to our show Photographer Sian Broderick of Maine Image Photography.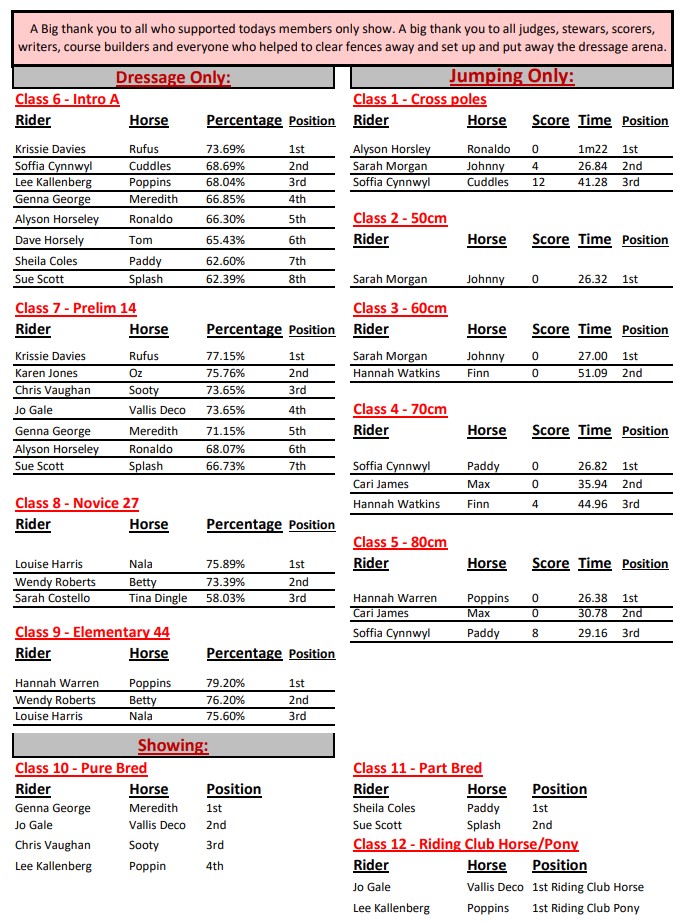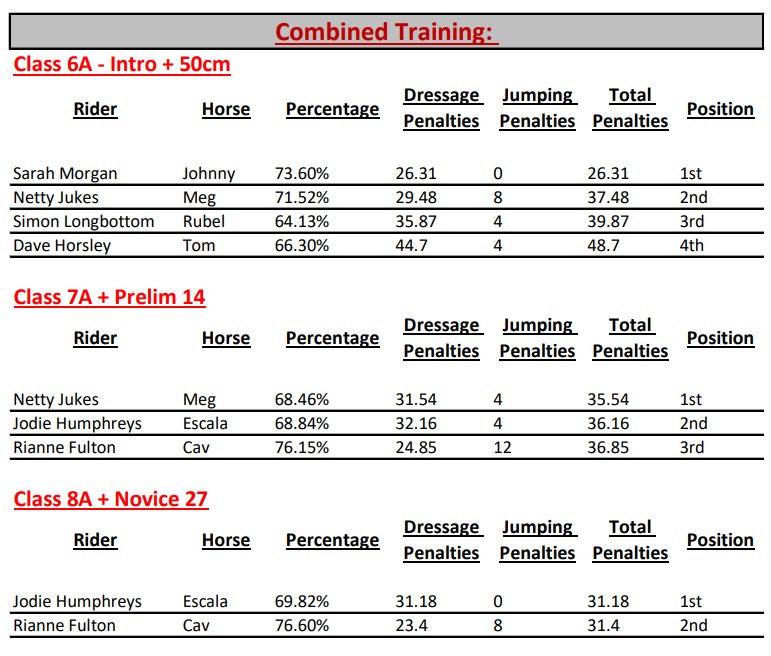 22.08.21 - Members only Dressage Show held at Bailey Farm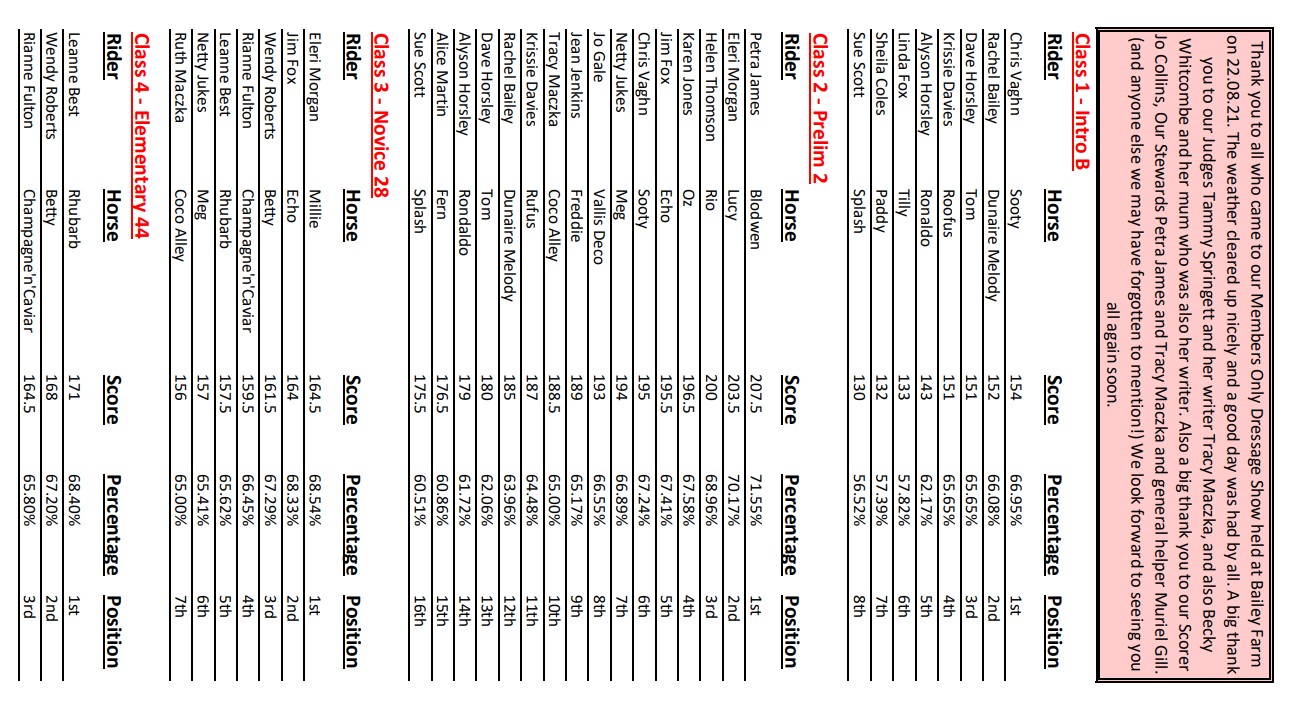 08.08.2021 - Members only showjumping show held at Bailey Farm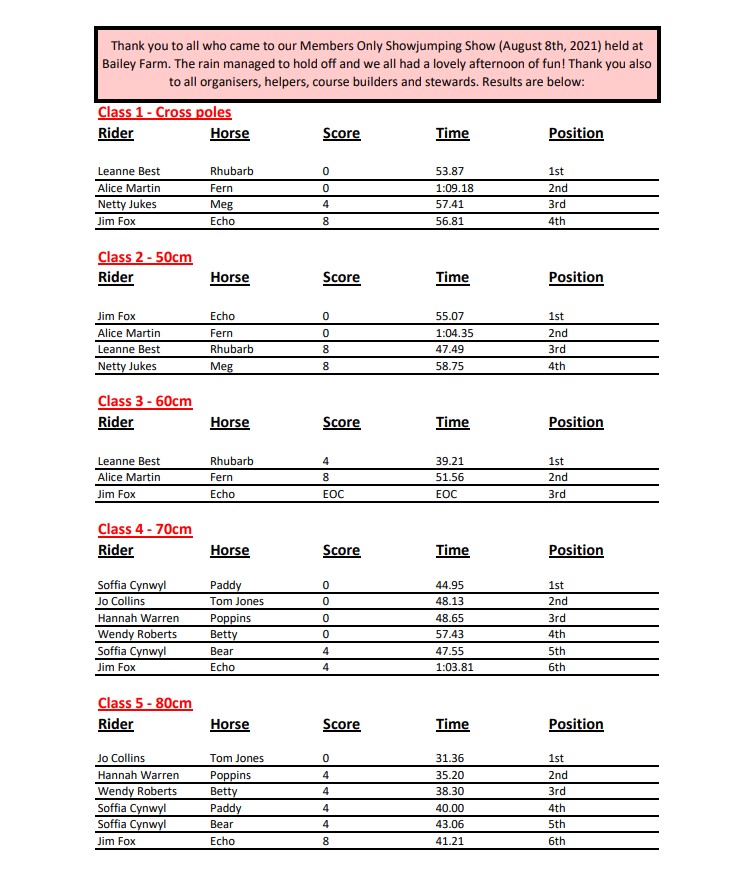 Congratulations to all and thanks to all at Beacons for organising a super day and to Amy Pett as Official Steward!
AREA 21 DRESSAGE TO MUSIC AT BEACONS
SATURDAY 29TH AUGUST 2020
RESULTS
Class Senior Prelim – no points
1st Eleri Morgan 67.50% (TRC)
2nd Angharad de Smet – 67.23%
3rd Elinor Evans – 66.94%
4th Emma Chamberlain – 65.56%
5th Trish Hearne – 62.5%
Class Senior Novice – no points
1st Shannon de Smet – 69.44%
2nd Julie de Smet – 62.28%
3rd Kath Gravell – 65.00%
Class Senior Novice plus points
1st Hannah Warren – 72.50% (TRC)
2nd Astrid Cuddigan – 68.61% (TRC)
3rd Cethin Ravenhill – 68.03%
4th Louise Harris – 65.83% (TRC)
5th Ellen Griffiths – 65.28%
Class Elementary
1st Cethin Ravenill – 65.58%
Pick a Test
1st Sarah Wedgbury – 64.83%